Prevent Electrical Overloads
Today's electrical systems are complex, making it difficult to detect many trouble areas which can very often result in electrical failures and costly repairs, not to mention fires and employee safety. Even a small electrical problems can have extreme consequences, I've seen this far too many times. In electrical faults, the energy is spent generating heat and when left unchecked the heat will continue to rise to the point where the connections start to melt and leading to sparks and then fire.
Identify Unsafe Areas Which May Result In Electrical Failures
Safe Imaging's Infrared Thermal Inspections are used to identify all unsafe electrical issues in Commercial, Facility, Industrial and Residential Buildings. All unsafe electrical faults can be quickly and safely identified, making it easy to locate and repair, resulting in significant lowering risks to property and life.
Many insurance companies are now taking this into consideration and are requiring regular Thermal Inspections be done to the insured property. Many Insurance providers are now offering premium discounts when having a thermal inspection done by a Licensed Master Electrician and with a Level 2 Advanced Thermal Certification.
If you are a facility manager, maintenance manager, or building owner responsible for safety, production and repair at your facility, you should not be without a regular Thermal inspection of your electrical system, including panels, primary and secondary lines, disconnect switches, motors MCC's etc.
The National Fire Protection Agency suggests that every Commercial and Industrial building have a thermal inspection at least once a year. Safe Imaging inspects hotels, hospitals, data centers, casinos, schools, apartment complexes, medical centers, banks, office buildings, grocery stores, restaurants, food industry, and much more.
Thermal electrical inspections should be a part of your predictive maintenance program. It will minimize damage, address and correct potential safety issues and preventing down times, resulting in money savings and employee safety.
Safe Imaging will provide detailed, high quality and easy to understand certified thermal inspection reports that will thoroughly document findings and can be included in your preventive maintenance program.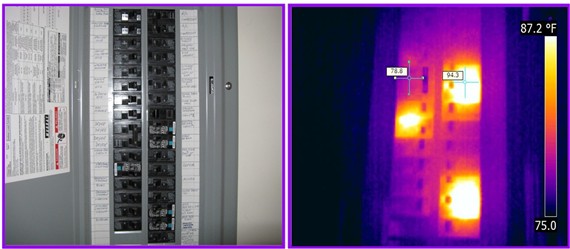 What can be found in a Thermal Infrared Inspections
Short Circuits
Loose connections
Open circuits
Bad breakers
Faulty fuses
Overloads
Unbalanced loads
Inductive currents
Energized grounds
The Benefits of Thermal Infrared Inspections
Quickly pinpoint electrical system problems
No need to shut down the system
Reduces down time
Increases equipment life
Prevent costly failures
Low risk
Lower equipment repair cost
Allows Facility managers and owners to establish repair priority